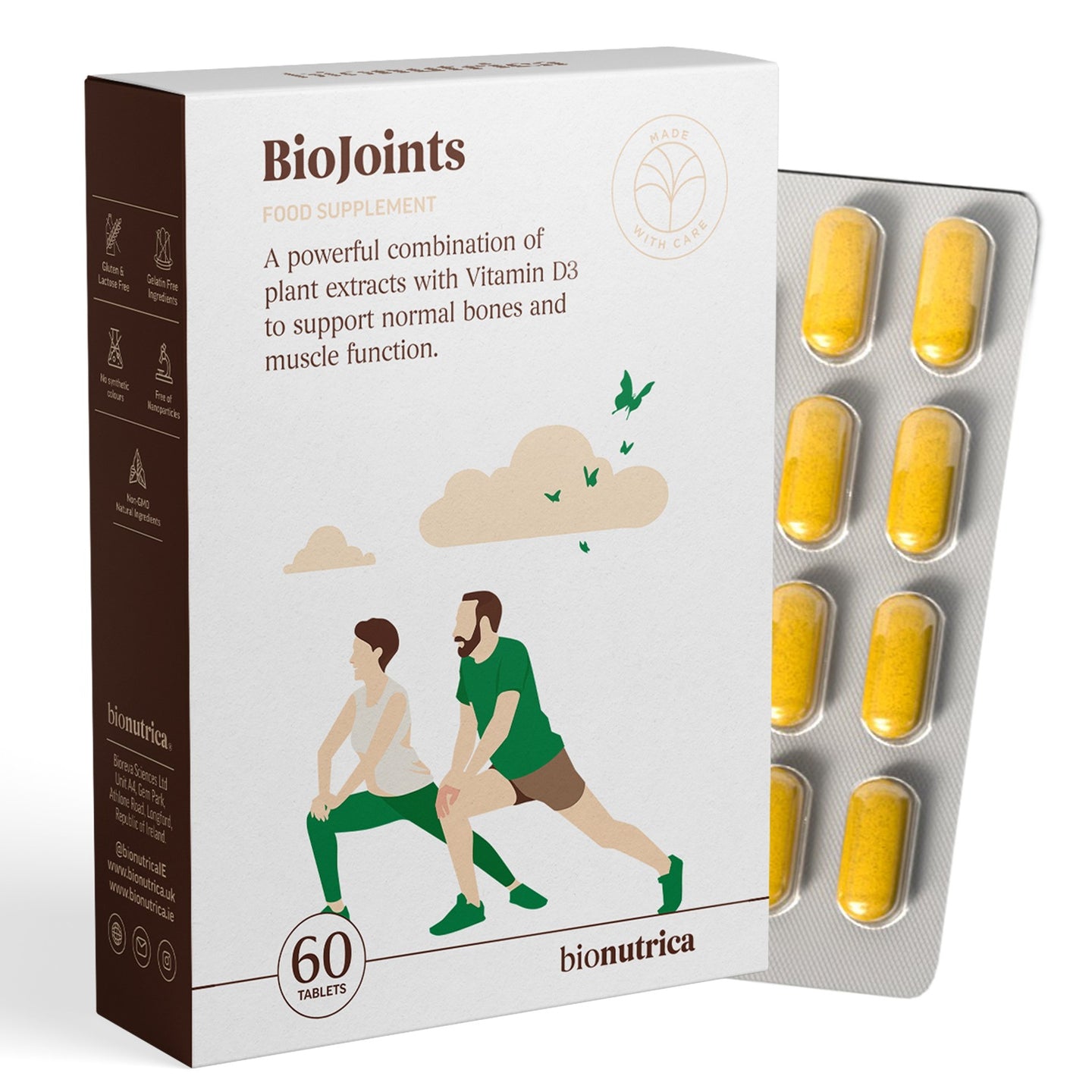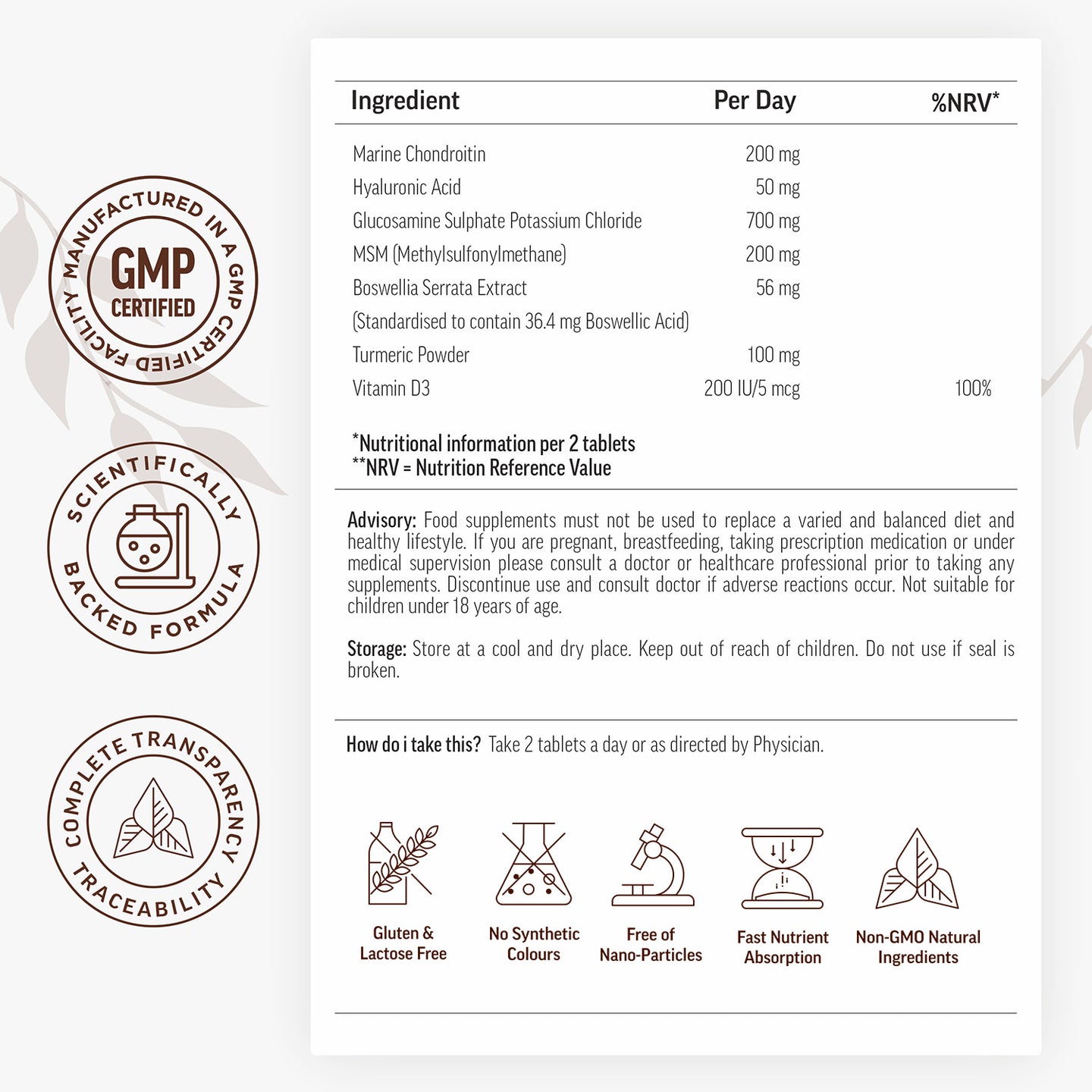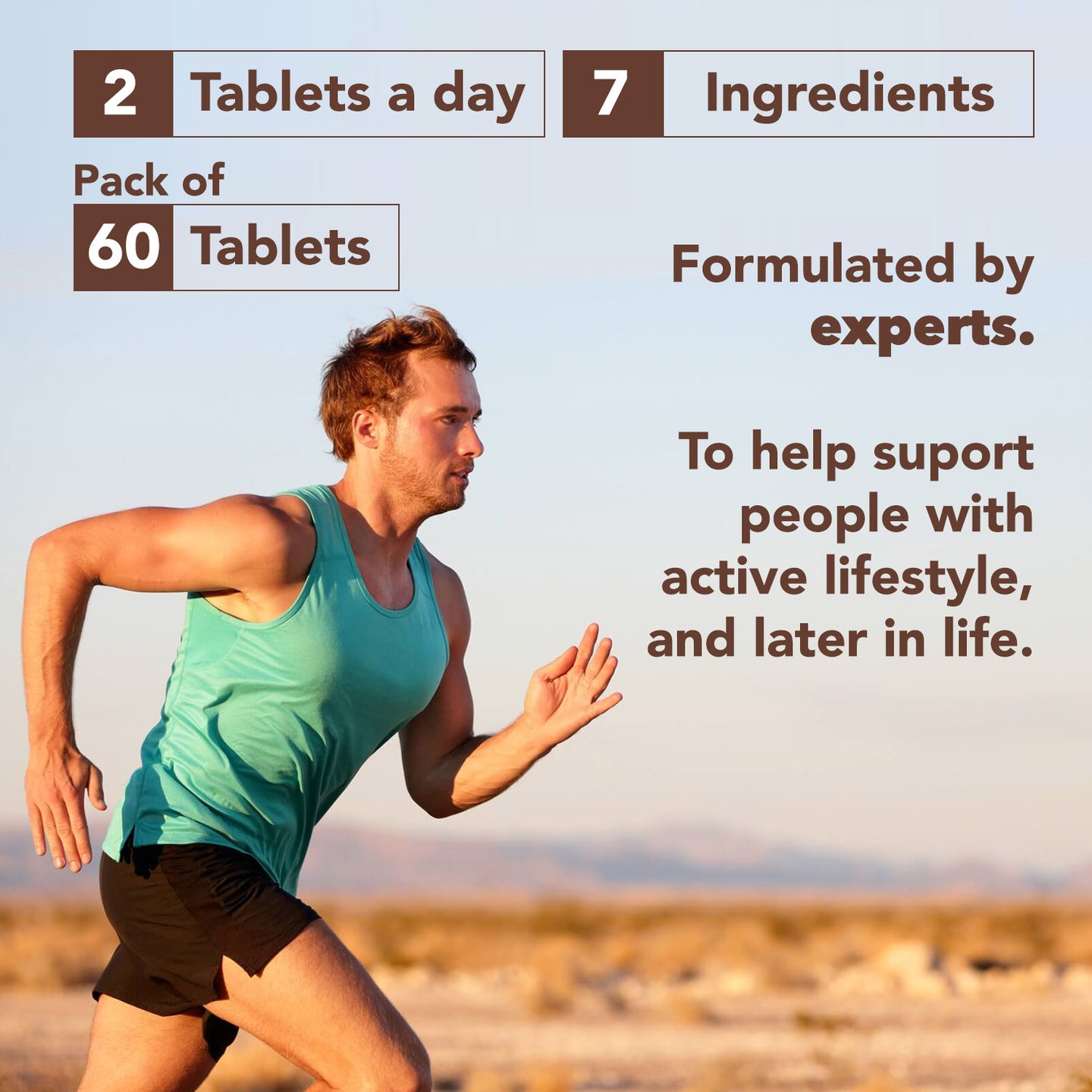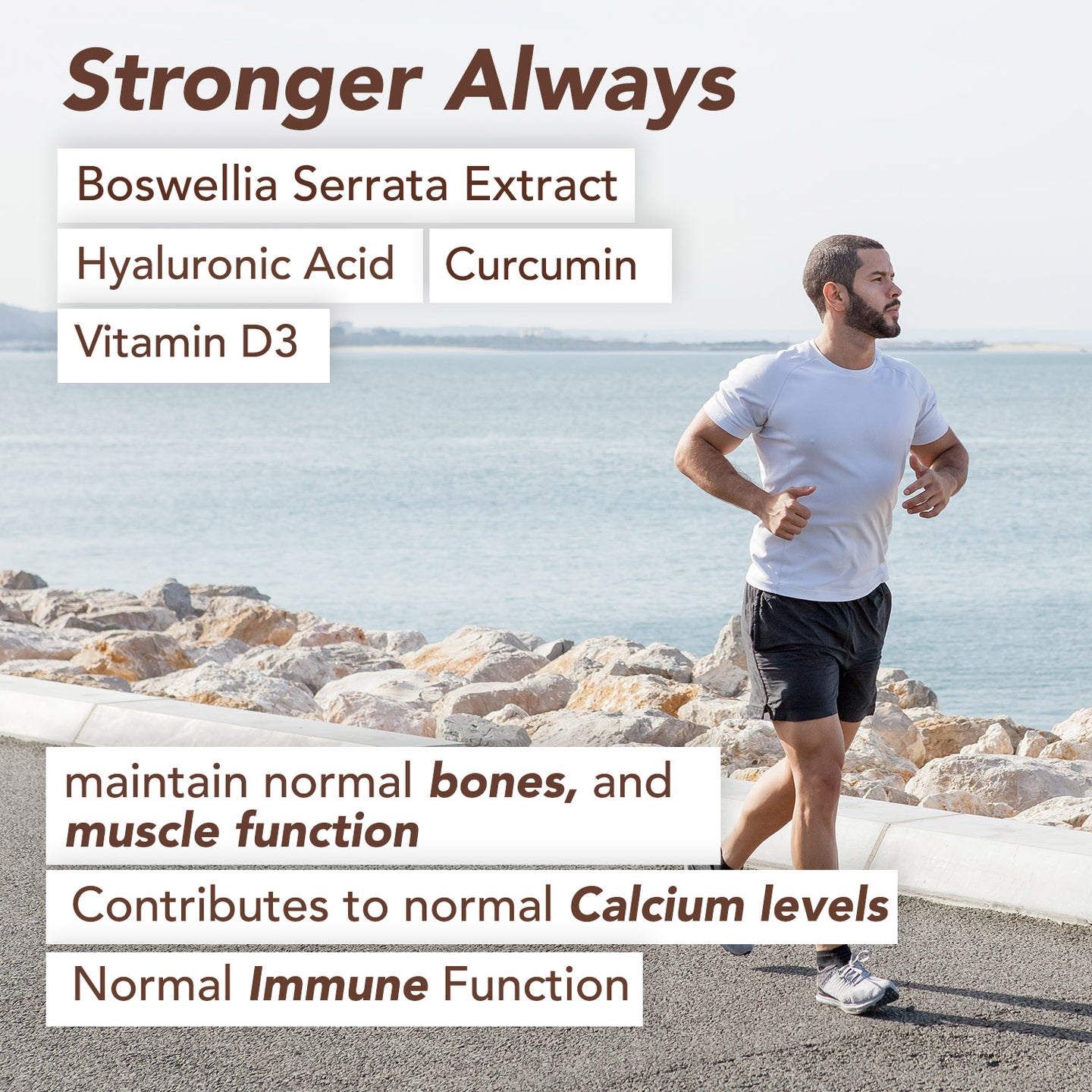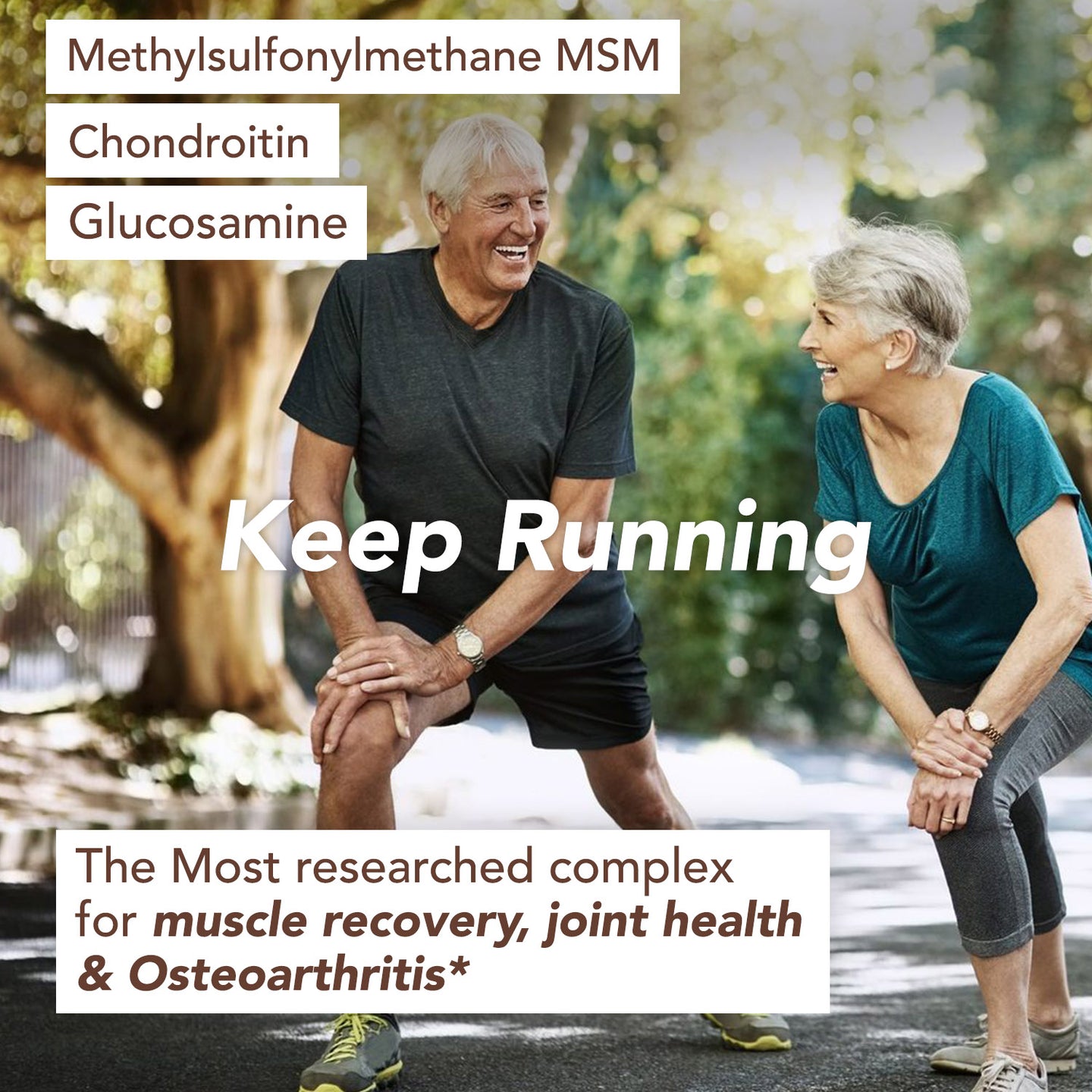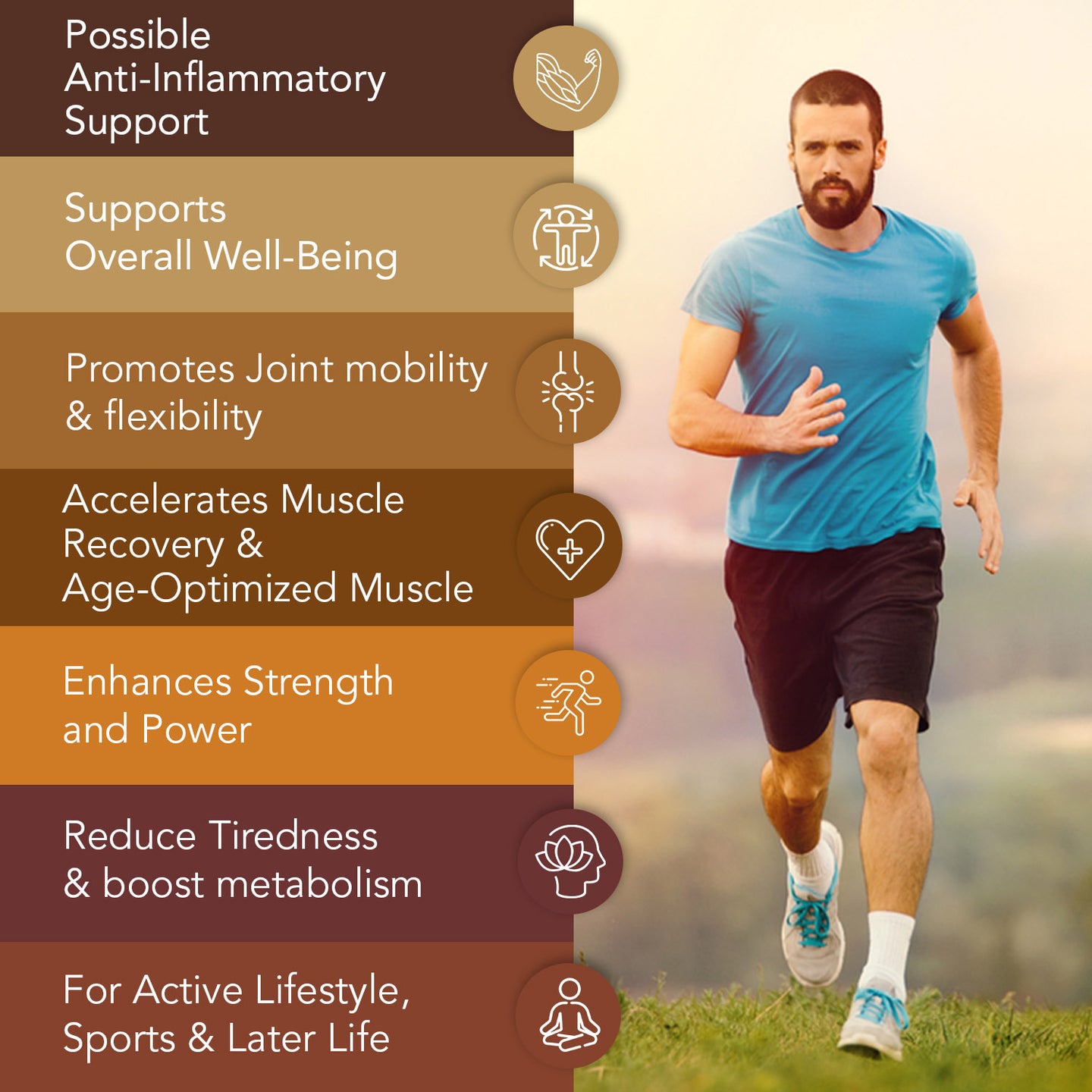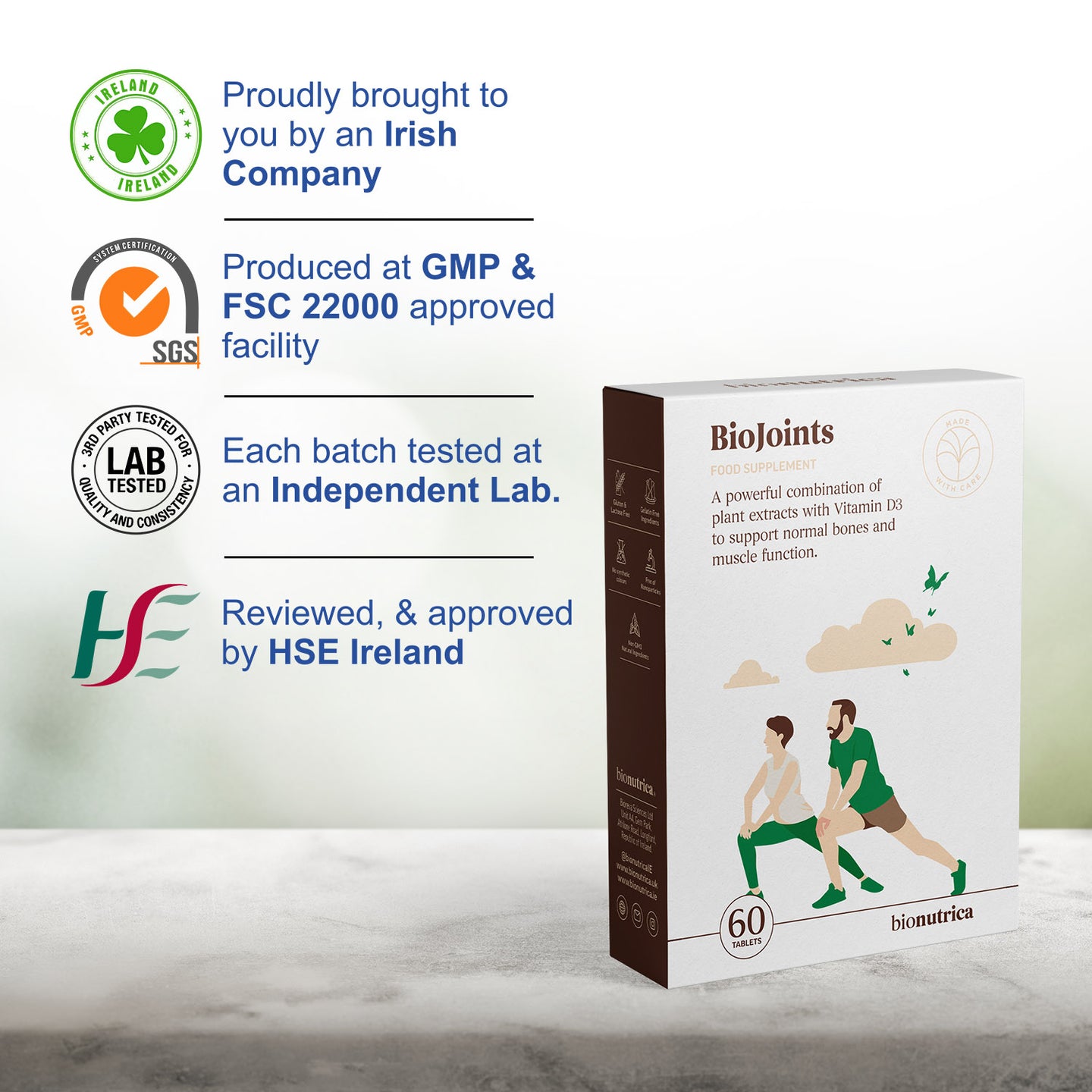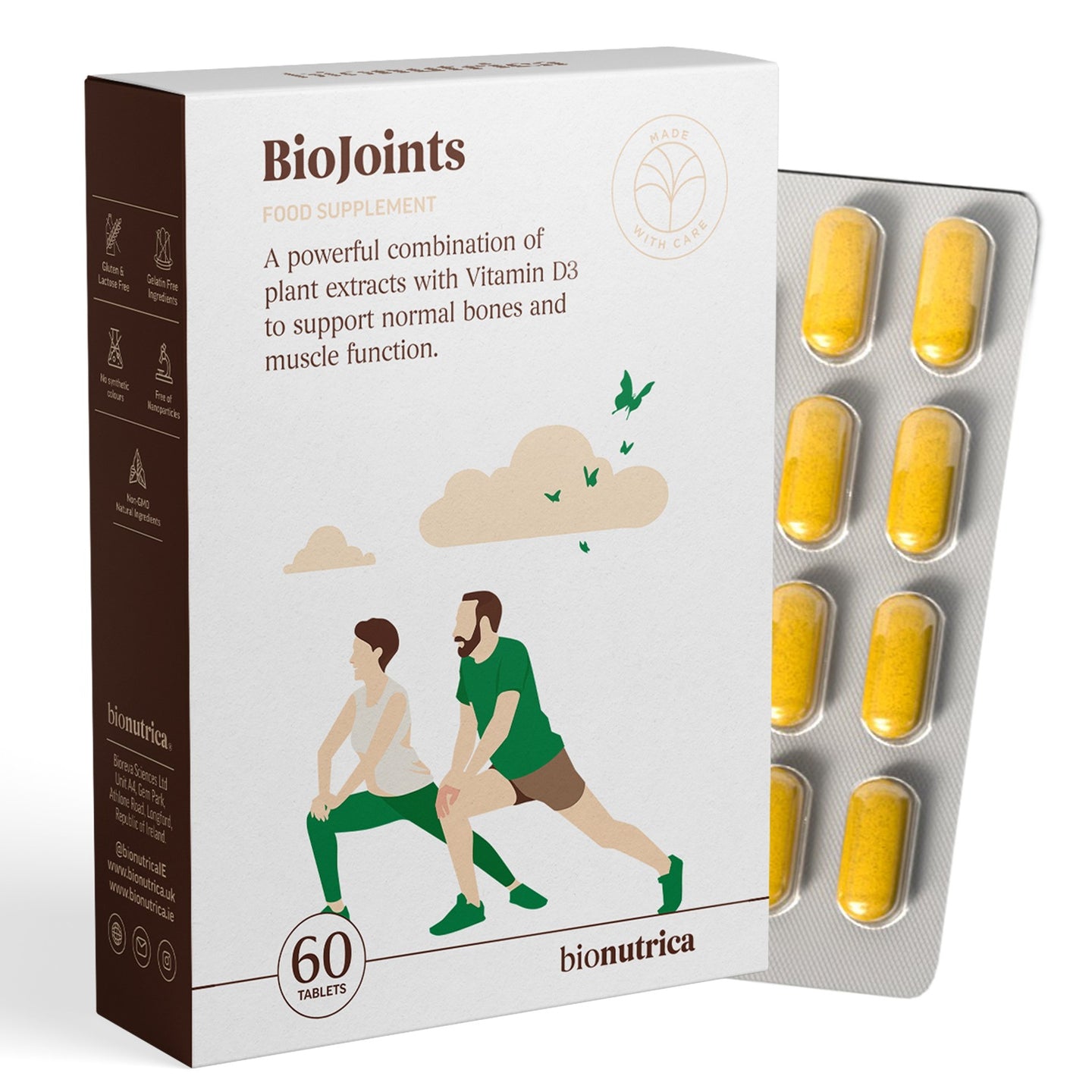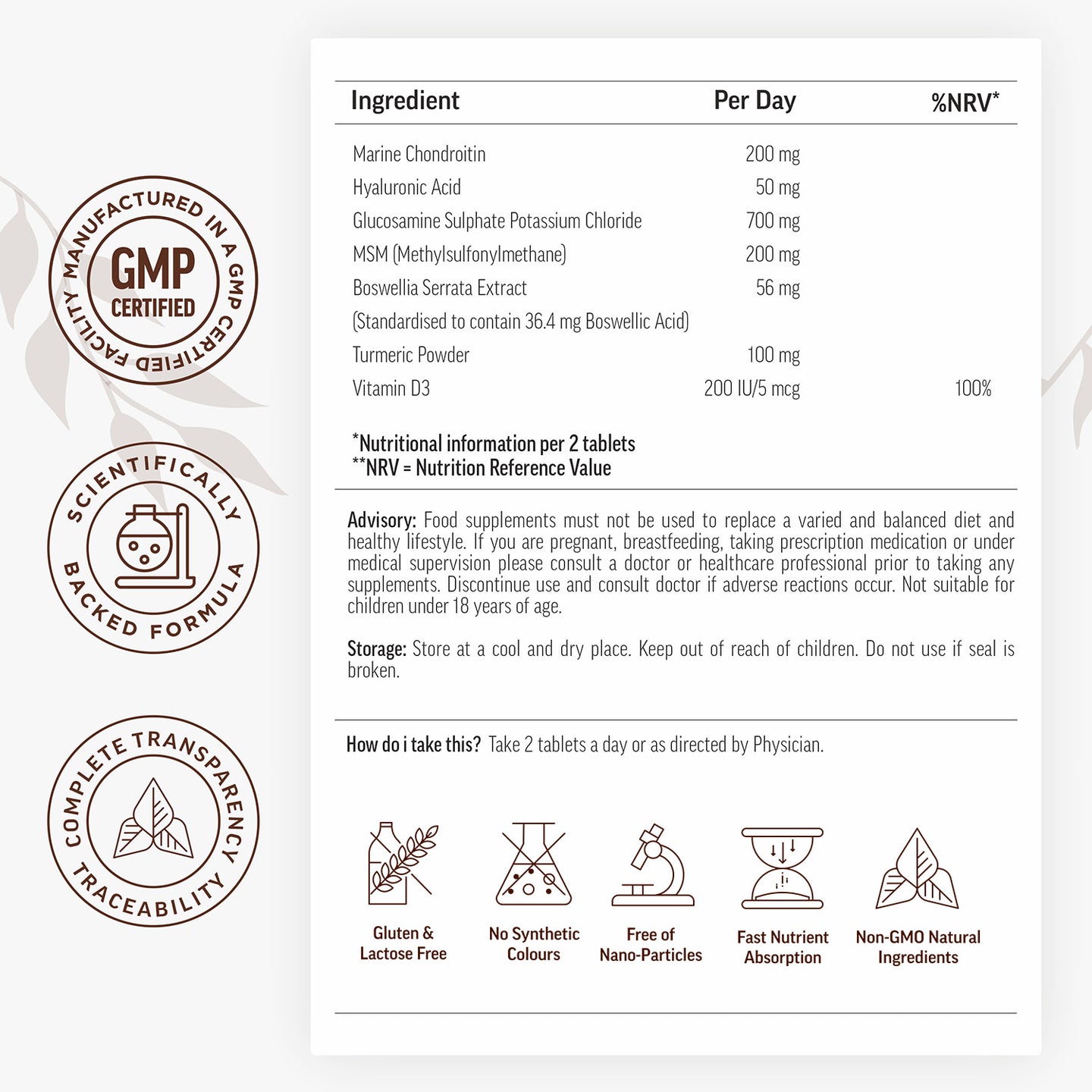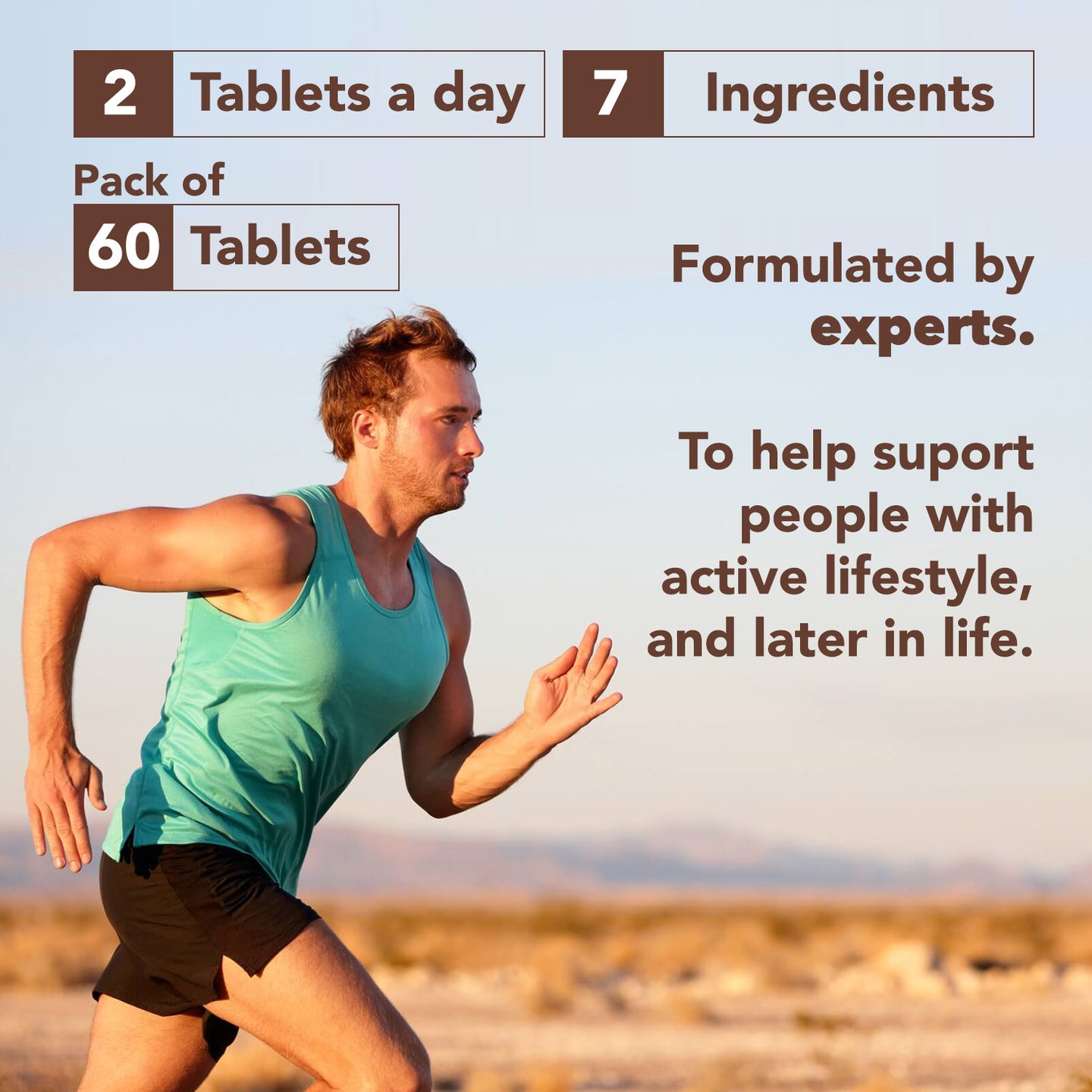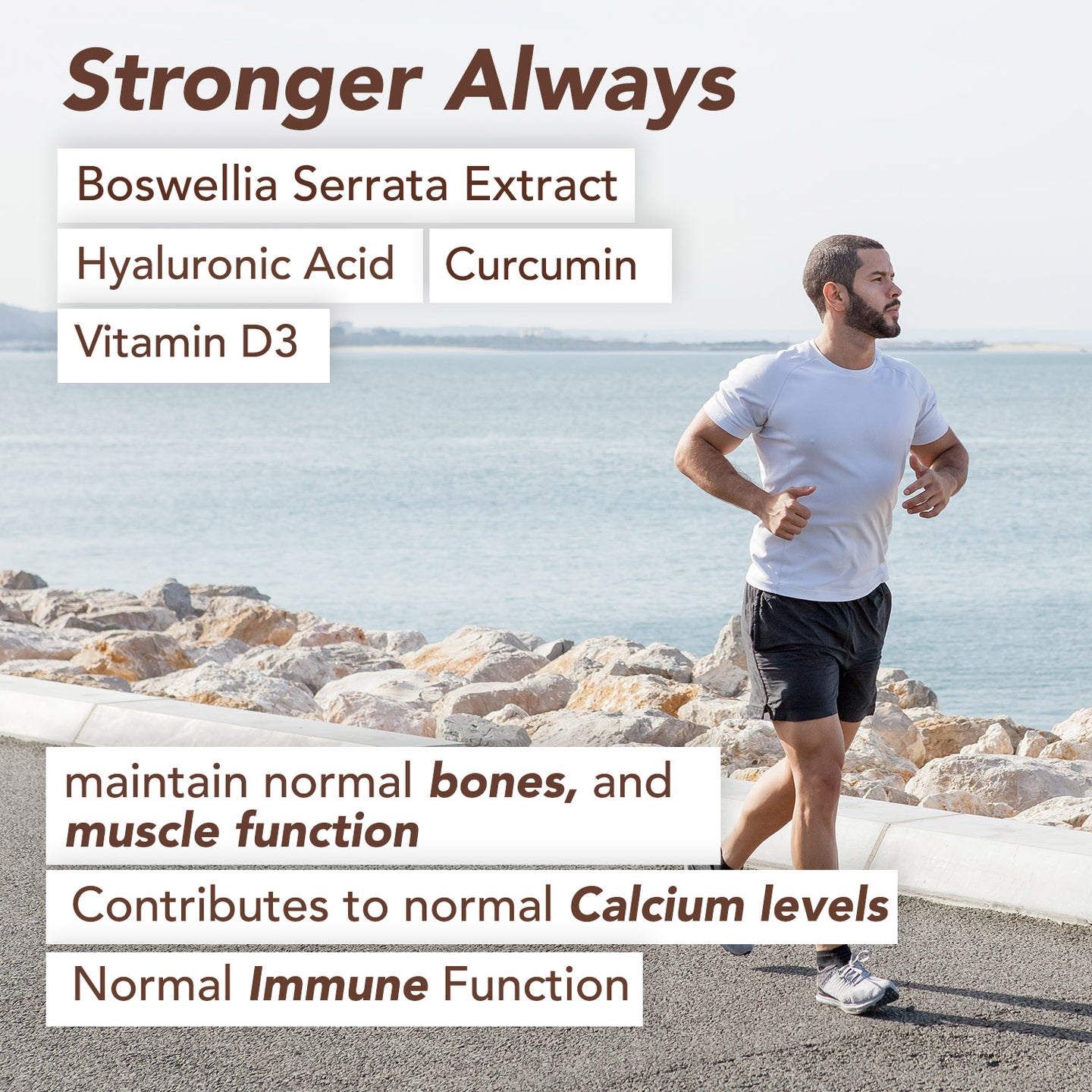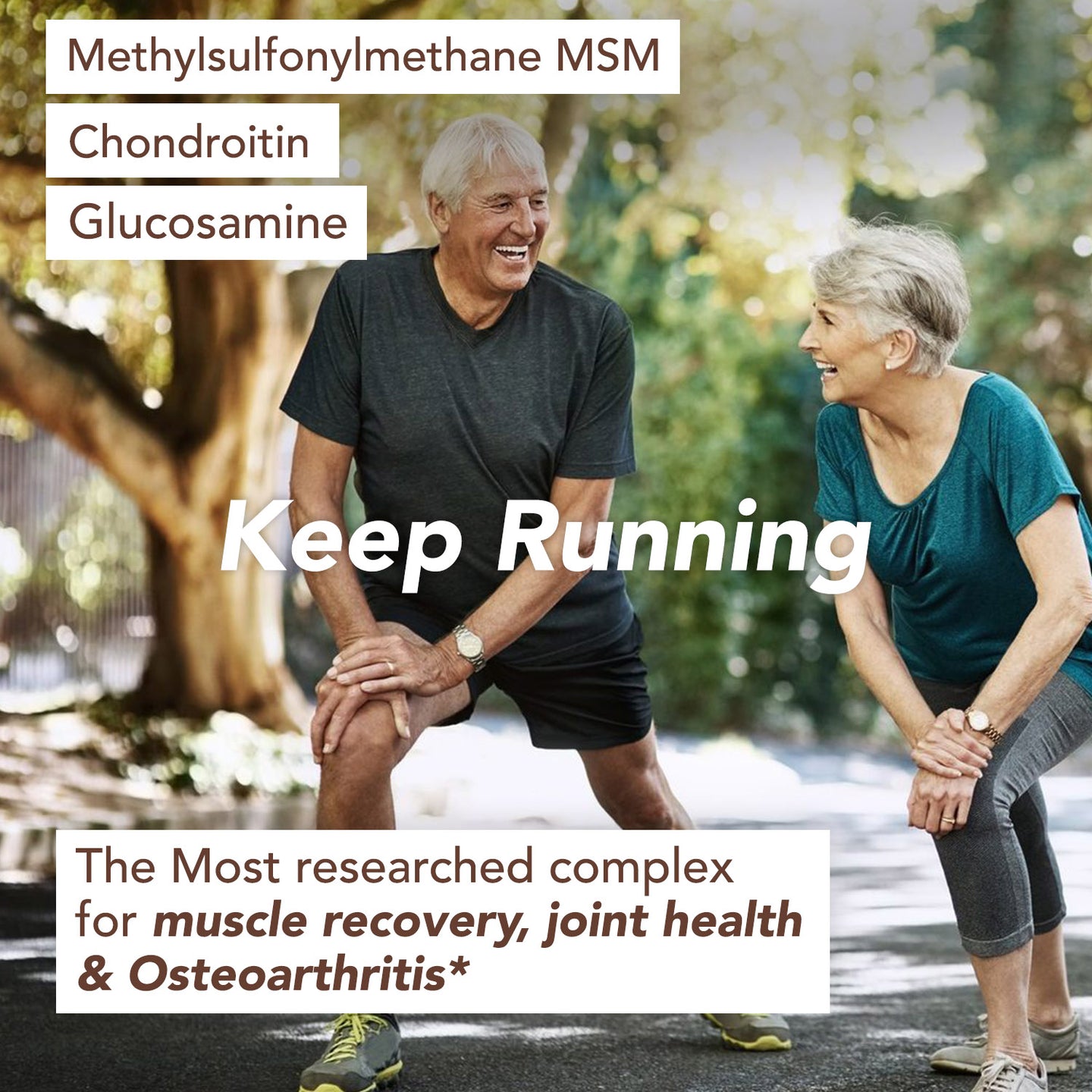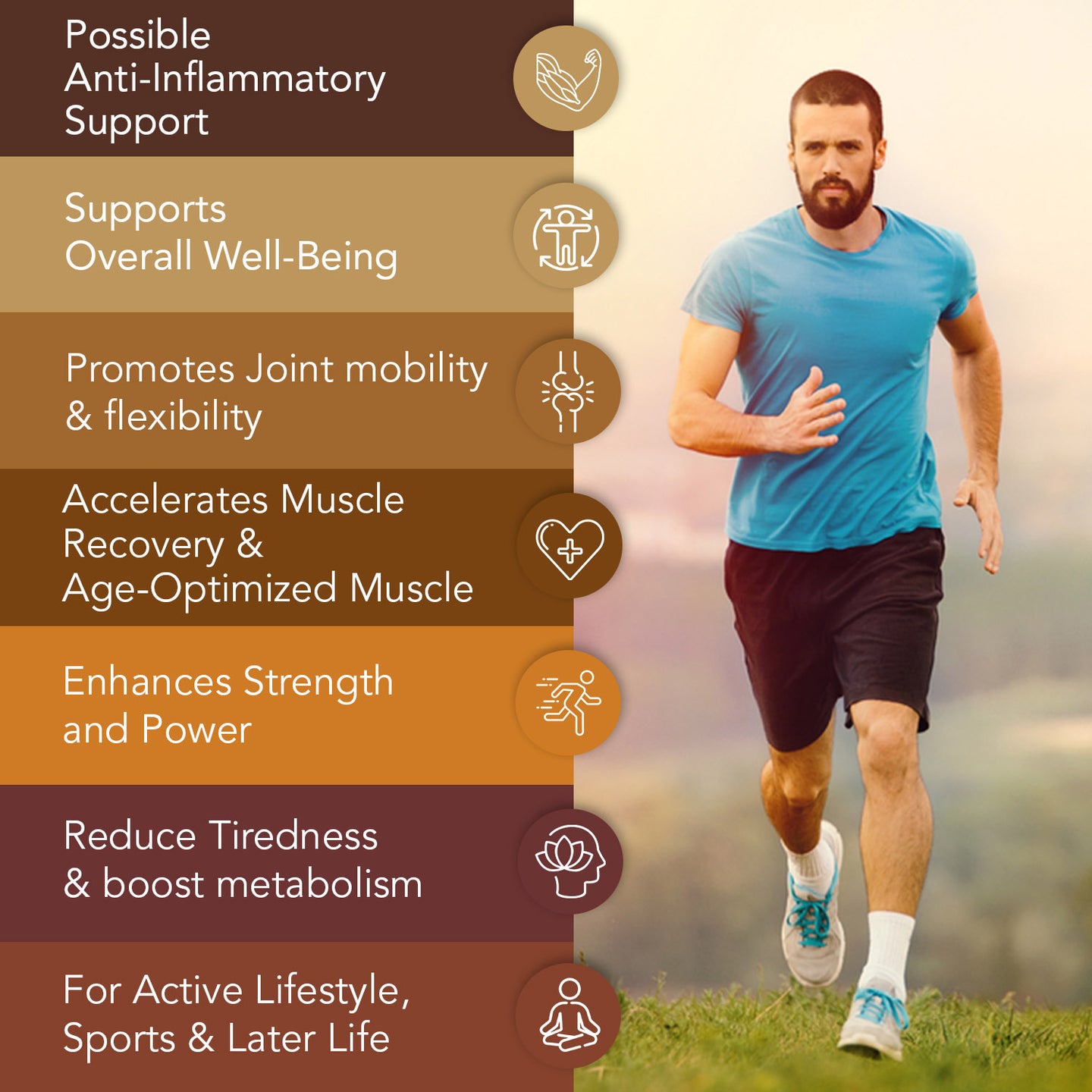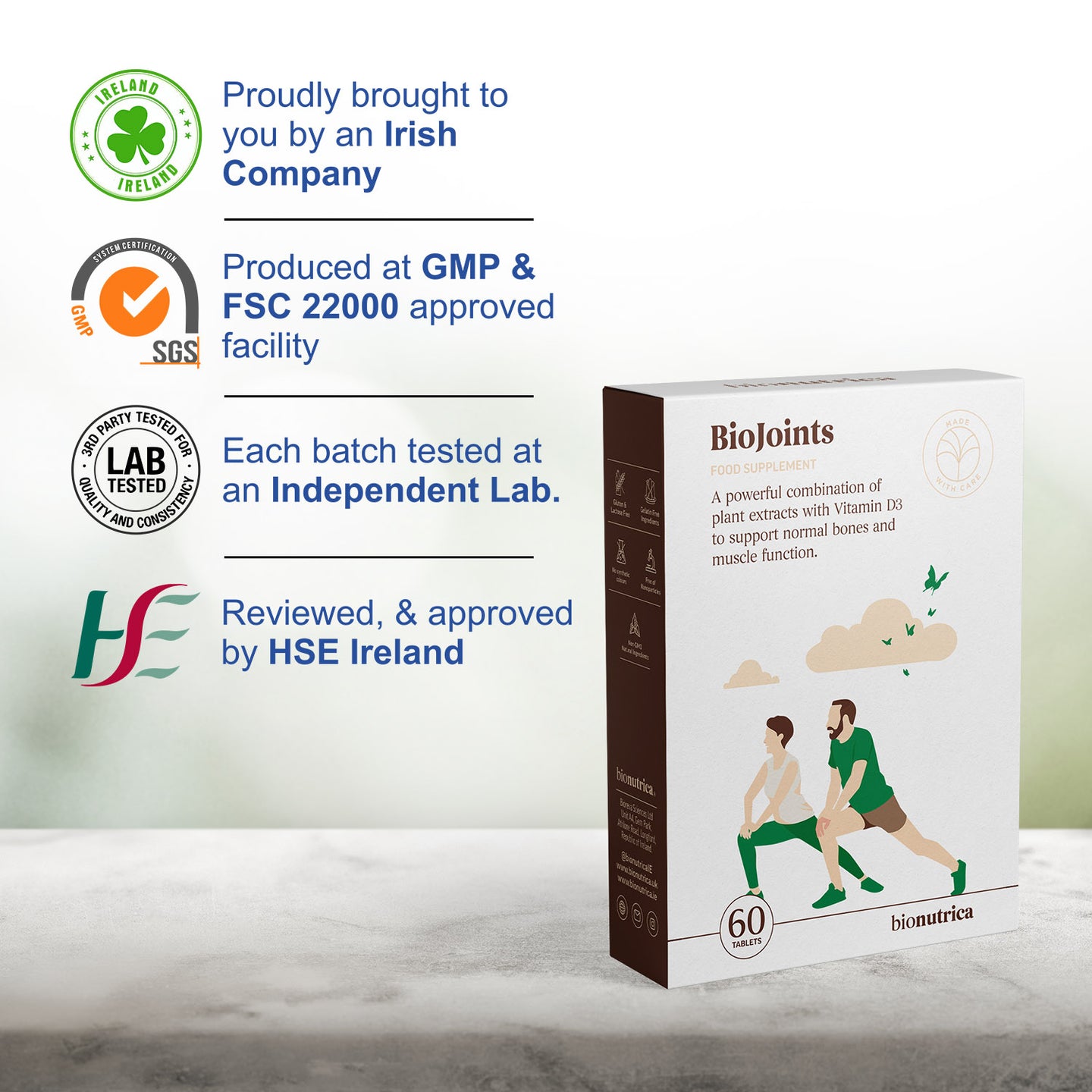 High Quality




FREE delivery




Best Price




15-Days Refund
Regular price
£18.25 GBP
Sale price
£14.38 GBP
Unit price
per
-21% OFF
Sold out
BioJoints is a combination of powerful ingredients that work together to support joint health, bone strength, and muscle function. It contains glucosamine, chondroitin, MSM, hyaluronic acid, Boswellia serrata extract, vitamin D3, and turmeric that work together to reduce pain & inflammation, protect joints, & rebuild cartilage.

It is a comprehensive formulation ideal for women & men with an active lifestyle.
Free Delivery by -
Ingredients

Bulking Agent (Microcrystalline Cellulose), Marine Chondroitin Sulphate (Fish), Hyaluronic Acid, Ethylcellulose, Glucosamine Sulphate Potassium Chloride, MSM (Methylsulfonylmethane), Croscarmellose Sodium, Vitamin D3, Polyvinylpolypyrrolidone, Polyvinylpyrrolidone, Turmeric Powder, Anti-Caking Agent (Magnesium Stearate), Glaing Agents (Hydroxypropylmethylcellulose, Talc, TrienthylCitrate), Silicon Dioxide.
Benefits of BioJoints

Promotes Joint Mobility & Flexibility
Anti-Inflammatory Effects
Enhances Strength & Power
Supports Overall Wellbeing
Reduce Tiredness & Boost metabolism
Accelerates Muscle Recovery
Supports Bone & Cartilage Strength
How To Use

Take 2 tablets a day with plenty of water or as directed by a healthcare professional. Do not exceed the recommended intake.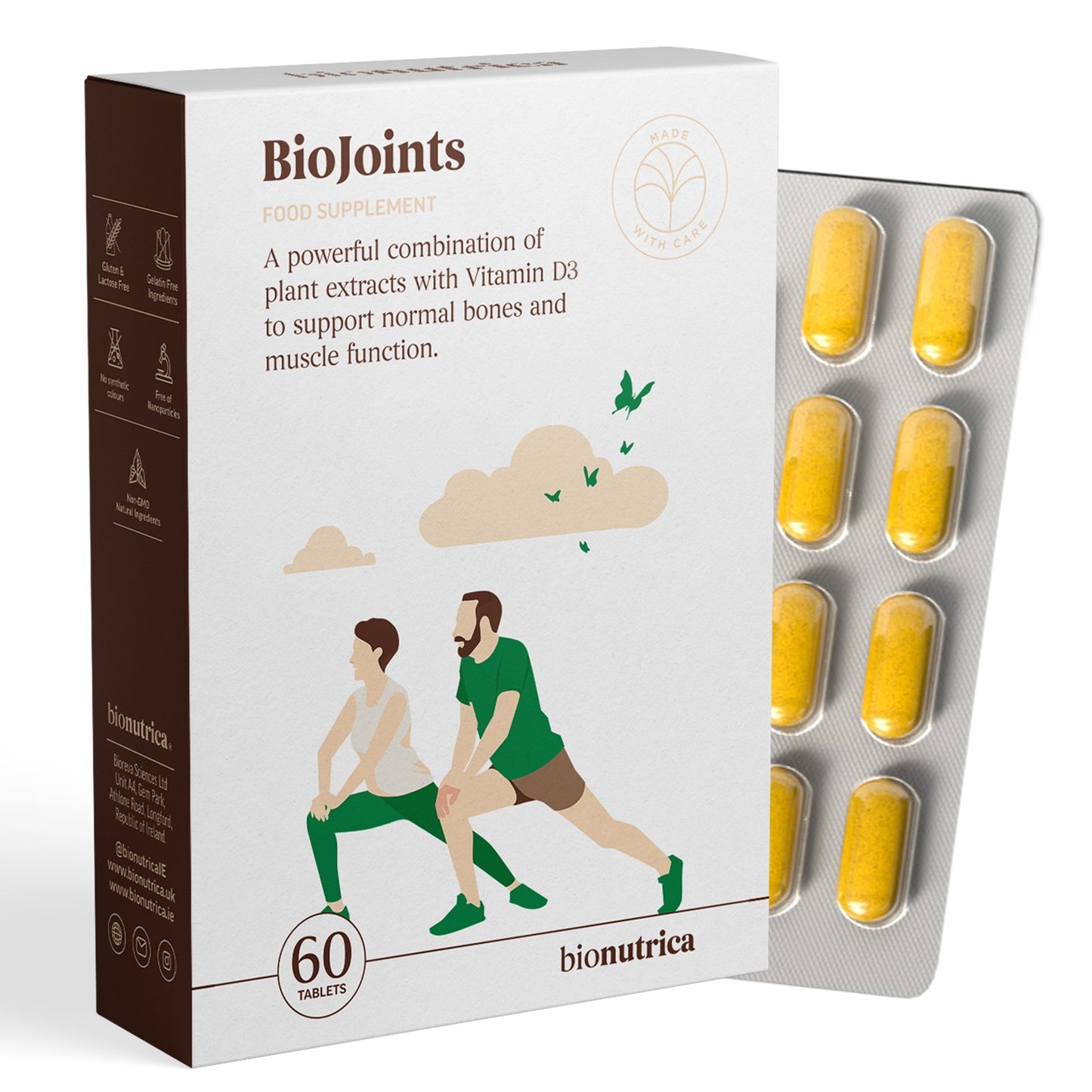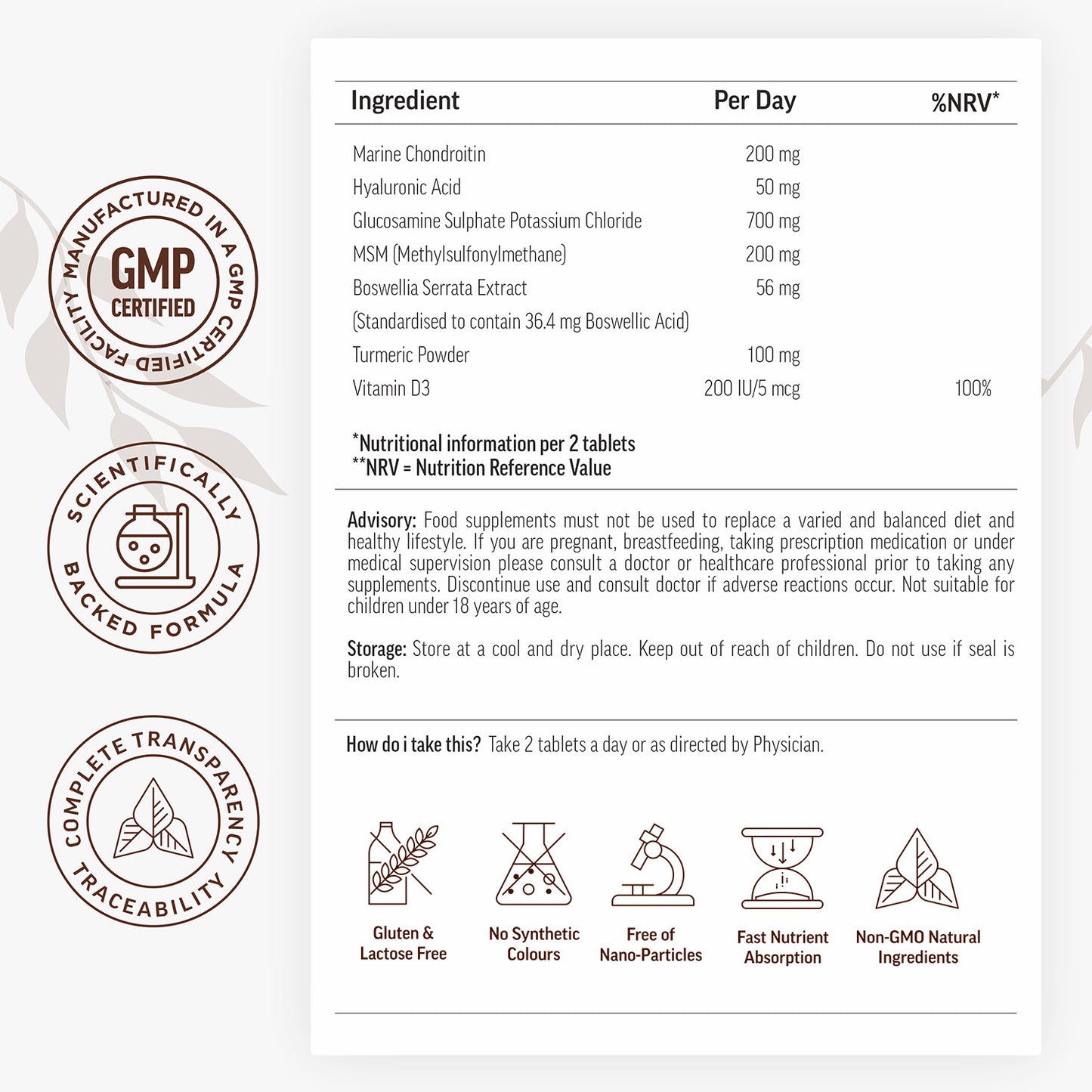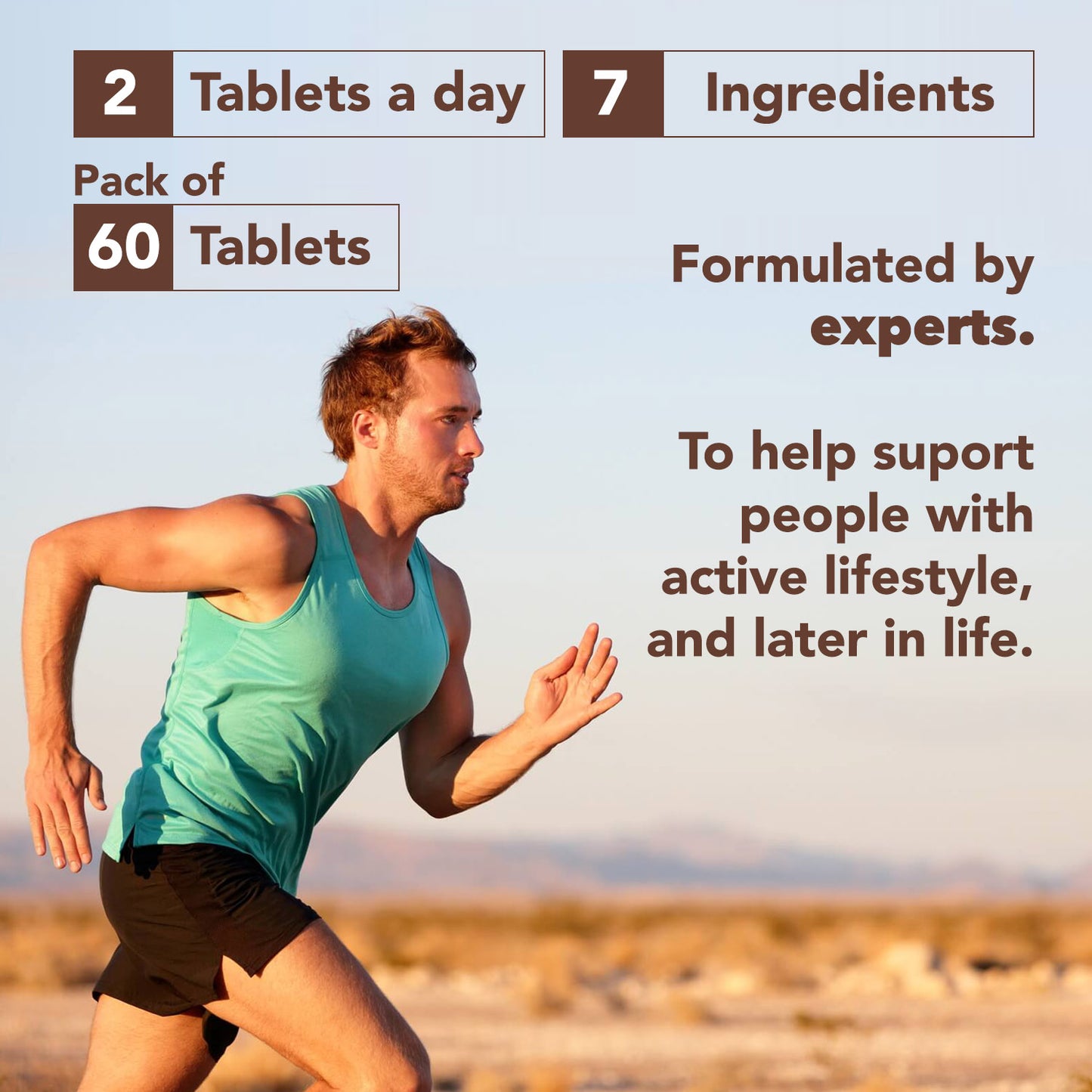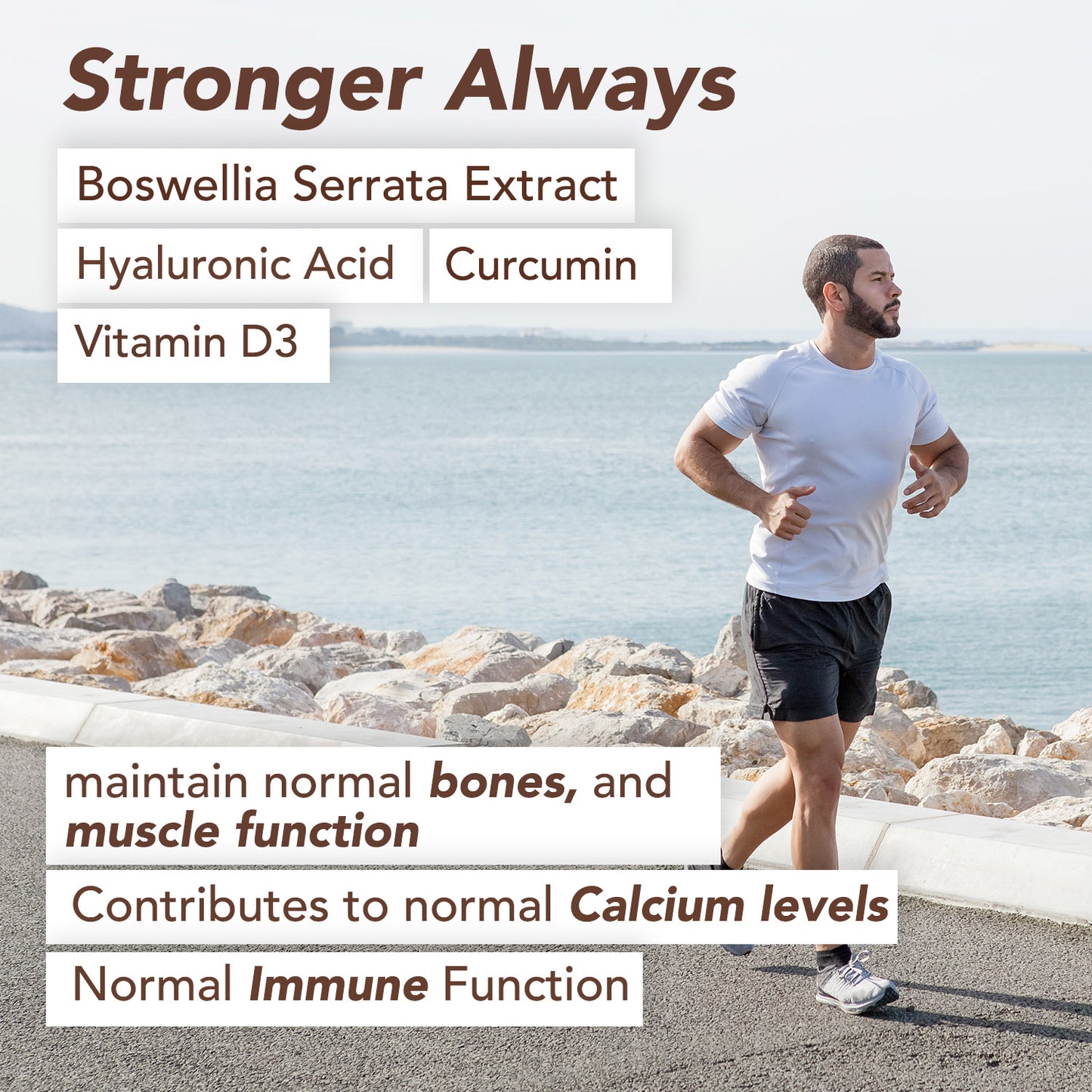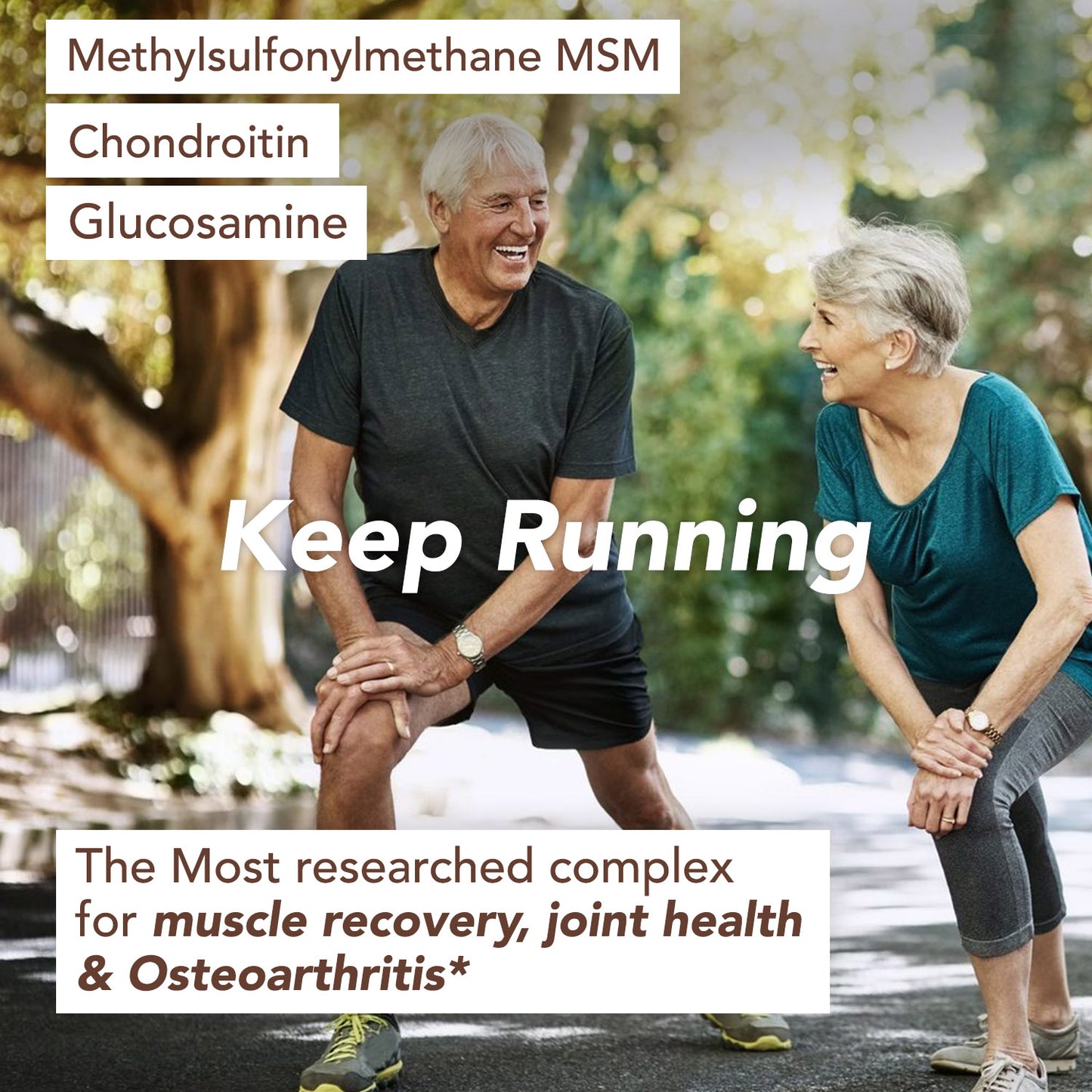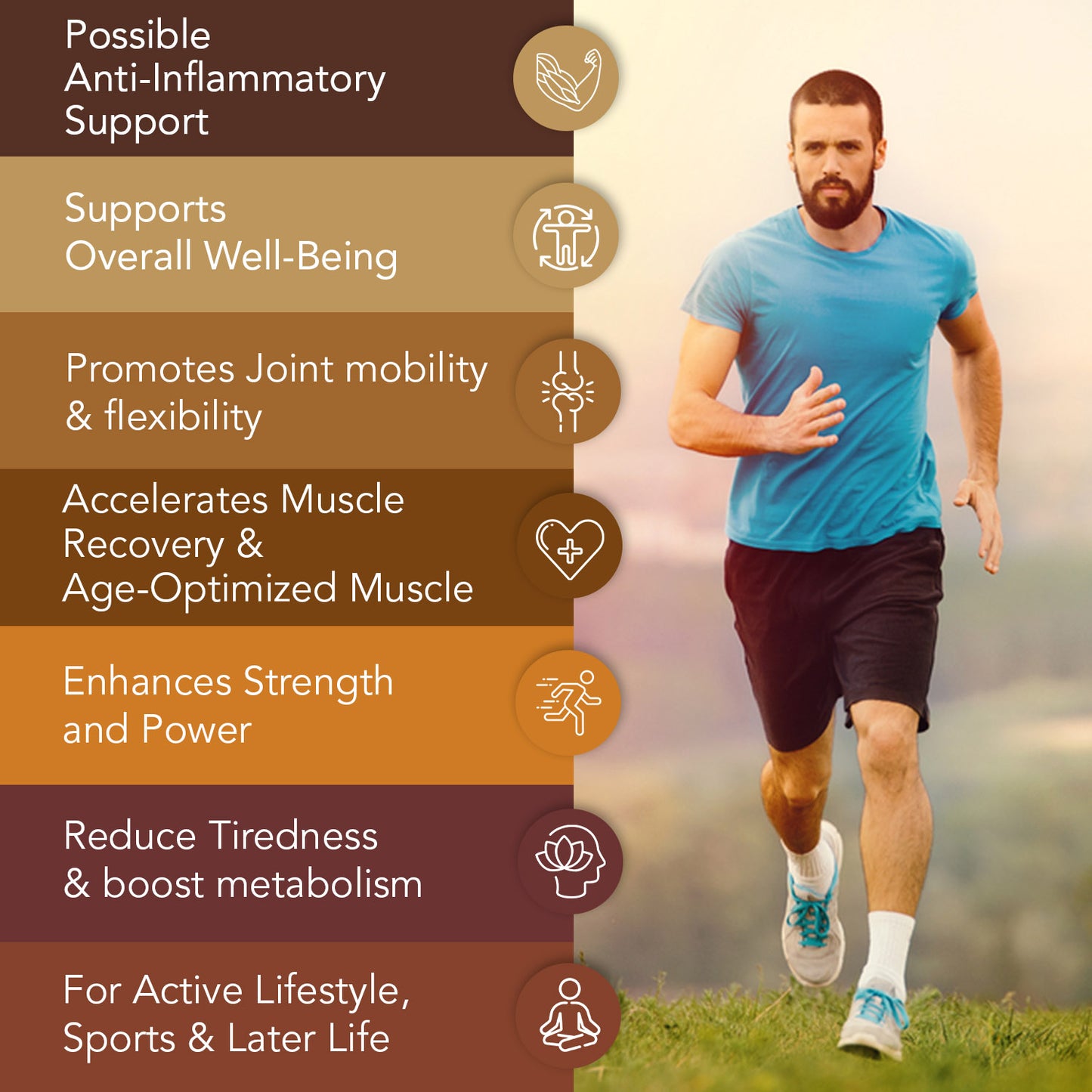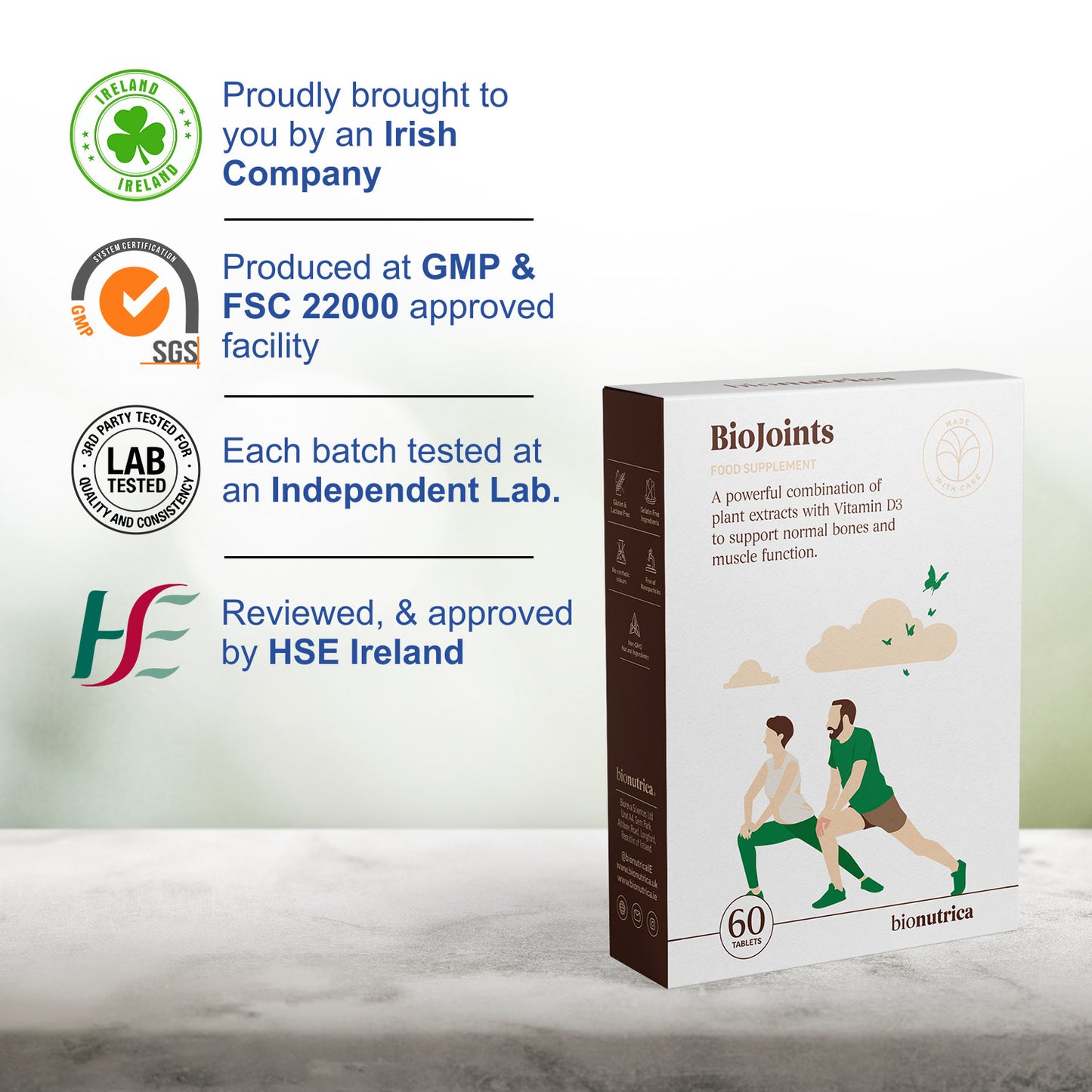 Benefits of BioJoints Tablets
Possible Anti-Inflammatory Support

Various peer reviewed studies have shown that turmeric and Boswellia may contributes to the reduction of inflammation in joints.

Support Normal Bones & Muscle Function

Vitamin D3 has been approved by European Food Safety Authority to support normal bones and muscle function.

Glucosamine & Chondroitin Complex with Hyaluronic Acid

A widely consumed combination for joints health, with a plenty of scientific and peer reviewed studies suggesting its importance in joints health.

For Active Lifestyle, Sports & Later Life

Our comprehensive formulation can be taken regularly by people of varied level of physical activity.

Accelerates Muscle Recovery

MSM provides sulfur for collagen production, supporting joint comfort and mobility, aiding in muscle recovery after physical activity.
In case you're wondering?
What does BioJoints Contains?

BioJoints contains a comprehensive blend of ingredients aimed at supporting joint health. It includes nutrients such as :

 Typical Values 

Per Tablet

% NRV **

 

Marine Chondroitin

200 mg
 

Hyaluronic Acid

20 mg
 

Glucosamine Sulphate Potassium Chloride

 700mg
 

MSM (Methylsulfonylmethane)

200mg
 Boswellia Serrate Extract
(Standardised to contain 36.4 mg Boswellic Acid)
56mg
 

Turmeric Powder

100 mg
 

Vitamin D3

200 IU/5 mcg
100%

*Nutritional Information per 2 tablets

**NRV = Nutrient Reference Values
Why BioJoints?

BioJoint is a powerful blend of high dose of Glucosamine, Chondroitin, and MSM, which is further enriched with Boswellia Serreta Extract, Turmeric Powder, Hyaluronic Acid, that provides support to maintain normal joint and muscle health, and at the same time promoting joint mobility and muscle flexibility. It is among the very few nuanced formulations that offers precise ingredients like Hyaluronic Acid along with most potent and regular ingredients for healthy and sporty lifestyle.
What is the recommended dosage for the BioJoints health supplement?

Take 2 tablets a day or consult with a healthcare professional for personalized guidance.
How long does it take to experience the benefits of the BioJoints supplement?

The timeframe for experiencing the benefits of the BioJoints health supplement can vary depending on factors such as individual response, the severity of joint issues, and consistent usage. While some individuals may notice improvements within a few weeks, others may require longer-term usage for noticeable results.
Can I take BioJoints with other supplements?

Yes, BioJoints can be taken with general health supplements. However, it is recommended to not exceed daily recommended dosage.
Are there any known side effects associated with the BioJoints?

The BioJoints health supplement is considered safe for most individuals when taken as directed. However, it's always recommended to consult with a healthcare professional.
How long should I continue taking the BioJoints health supplement?

The duration of taking the BioJoints health supplement can vary depending on individual needs and goals. Some individuals may benefit from long-term use to maintain joint health, while others may find shorter-term usage sufficient. It is advisable to consult with a healthcare professional for personalized recommendations based on your specific situation.
What is your order dispatch time?

We process and dispatch all our orders within 1 working day after placing your order.
What is 15 days risk-free guaranteed?

If for any reason you are not satisfied with your purchase, you may request a refund within 15 days of delivery of your first order. We'll refund you for the full cost of the product excluding shipping, VAT, or duties - no questions asked. For all subsequent shipments, you may reschedule or cancel at any time in your account.
Testimonials
Get inspired by other customers
" The only product that has helped with my knee pain. Good quality ingredients, delivery is always on time customer service is great! "

Danielle Lambert

" This is the only product I have tried that has actually helped with my joint pain. I'm a lot more active now, and this has greatly improved my day to day routine. "

Nicole

" I am 58 years old and have been a BioJoints customer for around 4 months and only have positive things to say. It has worked amazingly for the arthritis. "

Luisa
Choosing a selection results in a full page refresh.
Opens in a new window.